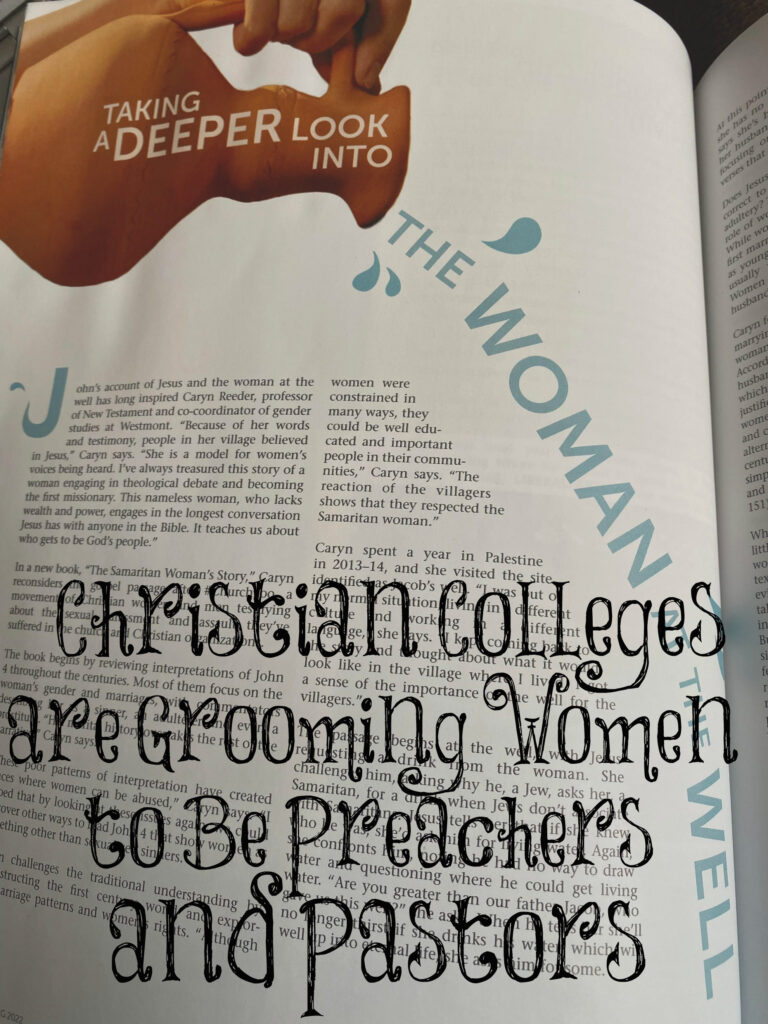 https://www.videosprofitnetwork.com/watch.xml?key=b7c06be31e04c258b8ee9abba5a8667a
My husband and I graduated from Westmont College in 1980. I wasn't strong in biblical knowledge so I didn't know if what I was being taught was biblically accurate or not. I wasn't wise and discerning back then as most college students are not. I asked my husband this morning if Westmont was falling away from biblical truth when we went there, and he said it was.
Yesterday, I received a magazine from Westmont College. I put it in the trash pile but then decided to see what was in it. The first article I saw when I opened it was called "Taking a Deeper Look Into the Woman at the Well." The article was written about a woman named Caryn Reed who is a professor of New Testament and gender studies at Westmont. Immediately, red flags were waving at me.
Caryn wrote this about the woman at the well: "She is a model for women's voices being heard. I've always treasured this story of a woman engaging in a theological debate and becoming the first missionary. This nameless woman, who lacks wealth and power, engages in the longest conversation Jesus has with anyone in the Bible. It teaches us about who gets to be God's people."
Most women these days would read that and think, "That's so cool!" It's not biblically accurate at all. The woman at the well isn't a model for women's voices being heard in the way Caryn and women like her want it to mean. Here is the complete story of the woman at the well in John 4. (Remember, be Bereans, women! Search Scripture to see if what you're hearing is truth.)
"Now Jacob's well was there. Jesus therefore, being wearied with his journey, sat thus on the well: and it was about the sixth hour. There cometh a woman of Samaria to draw water: Jesus saith unto her, Give me to drink. For his disciples were gone away unto the city to buy meat. Then saith the woman of Samaria unto him, How is it that thou, being a Jew, askest drink of me, which am a woman of Samaria? for the Jews have no dealings with the Samaritans.
"Jesus answered and said unto her, If thou knewest the gift of God, and who it is that saith to thee, Give me to drink; thou wouldest have asked of him, and he would have given thee living water. The woman saith unto him, Sir, thou hast nothing to draw with, and the well is deep: from whence then hast thou that living water? Art thou greater than our father Jacob, which gave us the well, and drank thereof himself, and his children, and his cattle?
"Jesus answered and said unto her, Whosoever drinketh of this water shall thirst again: But whosoever drinketh of the water that I shall give him shall never thirst; but the water that I shall give him shall be in him a well of water springing up into everlasting life.  The woman saith unto him, Sir, give me this water, that I thirst not, neither come hither to draw.
"Jesus saith unto her, Go, call thy husband, and come hither. The woman answered and said, I have no husband. Jesus said unto her, Thou hast well said, I have no husband: For thou hast had five husbands; and he whom thou now hast is not thy husband: in that saidst thou truly. The woman saith unto him, Sir, I perceive that thou art a prophet. Our fathers worshipped in this mountain; and ye say, that in Jerusalem is the place where men ought to worship.
"Jesus saith unto her, Woman, believe me, the hour cometh, when ye shall neither in this mountain, nor yet at Jerusalem, worship the Father. Ye worship ye know not what: we know what we worship: for salvation is of the Jews. But the hour cometh, and now is, when the true worshippers shall worship the Father in spirit and in truth: for the Father seeketh such to worship him. God is a Spirit: and they that worship him must worship him in spirit and in truth. The woman saith unto him, I know that Messiah cometh, which is called Christ: when he is come, he will tell us all things.
"Jesus saith unto her, I that speak unto thee am he. And upon this came his disciples, and marveled that he talked with the woman: yet no man said, What seekest thou? or, Why talkest thou with her? The woman then left her waterpot, and went her way into the city, and saith to the men, Come, see a man, which told me all things that ever I did: is not this the Christ?"
Did she have a theological debate with Jesus? She actually didn't. She was sharing with Jesus the knowledge she had and Jesus was teaching her that all she knew was pointing to Him. Was she a missionary? No. She certainly didn't share the Gospel as missionaries do. She simply went to the men in the city, told them that there was a man who knew all about her, and asked them if this was the Christ. The author twisted things about this woman that were just not the truth in order to justify women preaching and being pastors in the churches. Instead of looking at God's clear commands on this issue, women like Caryn look for examples that try to negate these commands, zero in on them, and then write entire books about it.
Then Caryn goes on to say that the "poor patterns of interpretation (of the woman at the well) have created places where women can be abused" since many interpret the woman at the well as a promiscuous woman. I am not sure how people have interpreted the woman at the well would cause abuse. Every person Jesus had an encounter with was a sinner! We're all sinners in need of a Savior. The woman at the well found that the Savior she was looking for was talking with her at the well!
Many female "Bible" teachers seem to laser focus on abuse and making women victims. They use this to tickle women's ears and create large followings. ALL women need to learn is that they are sinners in need of a Savior like the woman at the well. They need to know that Jesus paid the penalty for their sin, died on the cross, rose again, and all who believe in Him will have eternal life. None of what Caryn wrote negates women's primary role of being wives, mothers, homemakers, and being silent in the churches. No, the woman at the well does not in any way justify women preaching or being pastors. This wasn't the point of the story at all. Beware of women like Caryn.
And many false prophets shall rise, and shall deceive many.
Matthew 24:7