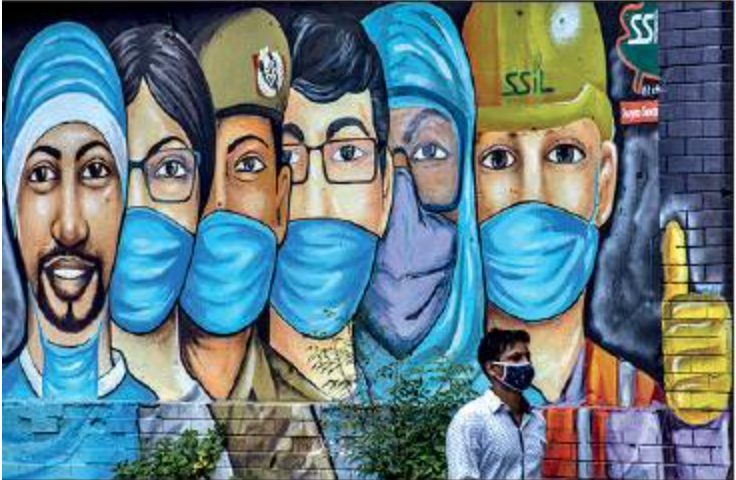 https://www.videosprofitnetwork.com/watch.xml?key=b7c06be31e04c258b8ee9abba5a8667a
New Delhi: In the last fortnight, since the mandate to wear face masks came back in force following an uptick in the number of Covid-19 cases, the district authorities have prosecuted more than 4,500 people and imposed fines amounting to more than Rs 22 lakh for not keeping their faces covered in public.
In its meeting on April 20, Delhi Disaster Management Authority (DDMA) decided that not wearing a face mask in public places would attract a penalty of Rs 500. On April 22, Delhi government issued an order stating that not covering face in public places had been made an offence and a fine of Rs 500 would be imposed for violation with immediate effect.
The fine is not applicable on people travelling together in private four-wheelers, but the exemption is not applicable to taxis or app-based cabs.
From April 23, when the district authorities started enforcement of the order, to May 5, 4,504 challans were issued by nine of the 11 revenue districts. The total fine imposed was Rs 22,05,500, while the actual amount charged on the spot was Rs 7,66,500. According to Delhi government's data, no challans were issued during this period in Central and Shahdara districts.
The highest number of challans (1,133) in the last fortnight were issued in East district, which amounted to more than Rs 5.6 lakh. However, the amount recovered was just Rs 500.
The second on the list of districts for carrying out the highest number of prosecutions was New Delhi with 705 challans. Also, while the amount of fine imposed by the district was understandably second highest too, it recovered the highest amount among all districts (Rs 2,44,500). New Delhi was also the only district that registered FIRs against people for violating the mask mandate and 216 FIRs were registered.
Three districts issued more than 550 challans during this period — South West (588), North East (562) and South East (553). Among these districts, South West imposed fines amounting to more than Rs 2.9 lakh and recovered Rs 90,000, while North East recovered over Rs 2 lakh out of Rs 2.8 lakh in fines imposed. South district, which issued 414 challans, recovered more than Rs 1.3 lakh out of over Rs 2 lakh in fines imposed by the district authorities.